An Alligator Named Daisy **½ (1955, Donald Sinden, Diana Dors, Jeannie Carson, James Robertson Justice, Stanley Holloway, Stephen Boyd, Roland Culver, Margaret Rutherford) – Classic Movie Review 4311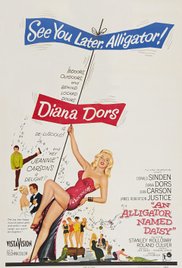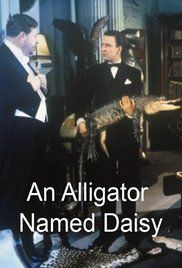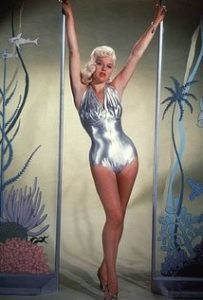 Director J Lee Thompson's utterly daft, not very witty 1955 British comedy boasts a pleasant atmosphere and some moderate, simple guffaws, not least through the charming cast's astonishing ability to entertain so well in such humble, ridiculously farcical circumstances.
Donald Sinden stars as Peter Weston, a budding tunesmith who, while returning home on a steamer, accidentally takes somebody else's suitcase by mistake and of course, because this is a ridiculous farce, it has got an alligator inside and now he has got to look after it as his pet.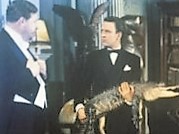 Diana Dors also stars as his rich fiancée, businessman's daughter Vanessa Colebrook, who doesn't like Daisy, but luckily for Peter there is an Irish lass, Moira O'Shannon (Jeannie Carson), who does. Daisy goes on to cause predictable havoc at a pet reptile rally.
Dors is particularly amusing, and so is Margaret Rutherford as a pet shop owner. One or two musical numbers (The Crocodile Crawl, I'm In Love For The Very First Time, Your First Love Was Your Last) are under-realised and on the feeble side, though they add to the general air of jollity.
Jack Davies's simple but game script adapts a novel by Charles Terrot.
Also in the magnificent cast are James Robertson Justice, Stanley Holloway, Stephen Boyd, Roland Culver, Avice Landone, Richard Wattis, Frankie Howerd, Jimmy Edwards, Gilbert Harding, Wilfrid Lawson, George Moon, Henry Kendall, Michael Shepley, Charles Victor, Ernest Thesiger, George Woodbridge, Bill Shine, Maurice Kaufmann, Ronnie Stevens, Charles Carson, Martin Miller, Colin Freer, Don Cameron, Patrick Cargill, Joan Young, Cyril Chamberlain, Joan Hickson, Nicholas Parsons, Una Pearl, Tony Selby and Carol White.
© Derek Winnert 2016 Classic Movie Review 4311
Check out more reviews on http://derekwinnert.com