Bleed for This *** (2016, Miles Teller, Aaron Eckhart, Ciarán Hinds, Katey Sagal, Ted Levine) – Movie Review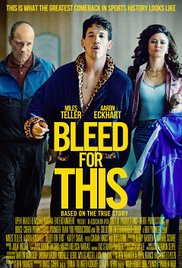 Three splendid performances from Miles Teller, Aaron Eckhart and Ciarán Hinds as a real-life boxer, his coach and his dad, are the making of this otherwise just par-for-the-course inspirational boxing drama.
Slightly oddly cast Teller is first rate as World Champion Boxer Vinny Pazienza who suffers a near fatal car crash and, through sheer guts and will power, goes on to make one of sport's most incredible comebacks.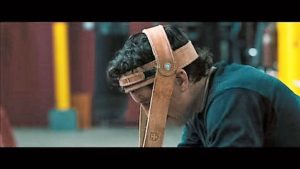 Eckhart plays it like he's Burgess Meredith in Rocky and Hinds like he's the older Robert De Niro in an Italian gangster movie, and in both cases it pays off.
Ben Younger, who directed Boiler Room (2000) and Prime (2005), makes a good job of the direction, keeping it tense, pacy and flavourful. But, extraordinary though the story is, it comes over as ordinary, maybe just because there have been so many similar boxing movie already. Warm and humane, it is very likeable, though maybe it could have been harder hitting.
© Derek Winnert 2016 Movie Review
Check out more reviews on http://derekwinnert.com