Frankenstein ***** (1931, Colin Clive, Boris Karloff, Dwight Frye) – Classic Movie Review 31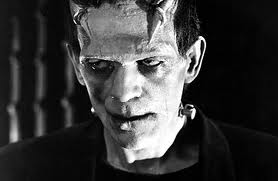 Made in 1931, this is still the archetypal horror film of all time, retaining its startling power to disturb and delight, and it is also high among the cinema's most glorious and imaginative fairy-tales. The Baron Frankenstein (Colin Clive) creates life after his hunchback helper (Dwight Frye) steals a murderer's brain from a grave to join other collected body parts. But the ghoulish story turns to poetry with the thrillingly done creation sequence…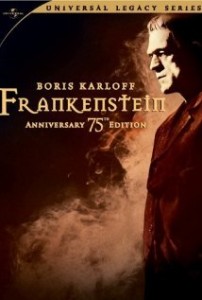 The Creature that Mary Shelley invented in her Romantic 1818 novel – the first great work of science fiction – for her late 18th-century Swiss scientist Dr Victor Frankenstein to bring to life was a handsome, cultured, articulate and sophisticated self-teacher.
But the Universal Studios' movie monster (memorably impersonated by Boris Karloff) is a mute beast with electrodes in his neck set off to run amuck in Hollywood's idea of Middle Europe populated by stiff-lipped British actors. This is the moment Hollywood forged Frankenstein's change in the popular mind from Shelley's Gothic romance to crowd-pleasing dark-toned horror.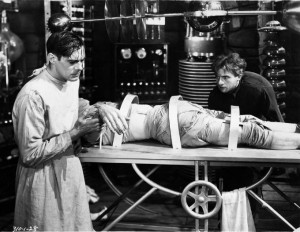 Universal decided to remake the Frankenstein story – there were three silent versions – as a follow-up vehicle for Bela Lugosi after his monster hit Dracula. The studio blocked his plan to play the scientist and lined up Leslie Howard instead with Lugosi as the monster, but Bela objected to having a mute role and Universal wouldn't agree to his self-devised makeup. Bette Davis was also cast in that version as the doctor's bride.
When Lugosi walked, British director James Whale inherited the project, cast his fellow countrymen Colin Clive as the doc and Boris Karloff as the Creature, and brought in the great Jack Pierce as makeup man, who came up with the Monster's haunting image.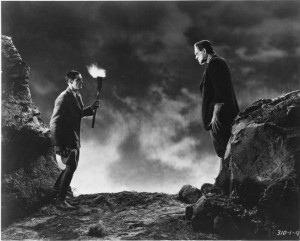 The film's noirish, claustrophobic, Germanic style is clearly influenced by Paul Wegener's 1920 The Golem, but develops it into a class act of its own that was hugely influential in its turn. But the main key to the film's enduring hold on audience's imaginations is Karloff's mesmerising performance as a sympathetic monster – clearly and subversively the film's hero.
Karloff is a miracle of muteness as he chillingly transforms before our eyes from naive innocent to playful learner to vengeful killer. Karloff outshines all other performers, fine though they are: a tense, stiff-lipped Clive as the doctor, Mae Clark as his bride, Frye as the hunchback who helps Frankenstein to go graveyard body-snatching, and Edward Van Sloan as Dr Waldman.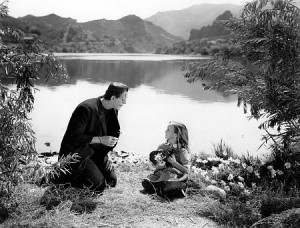 Karloff persuaded the studio to cut the scene where he chucks the little girl in the water because he felt it made the monster seem too violent and unsympathetic and the scene ends with him menacingly walking towards the kid. This sequence and censorship cuts were finally restored in 1987, making the movie even more effective. John L Balderston's distinguished screenplay is based on both the Mary Shelley novel and the play version by Peggy Webling that had starred Lugosi.
Followed by Whale's Bride of Frankenstein (1935).
http://derekwinnert.com/the-bride-of-frankenstein-classic-film-review-32/
http://derekwinnert.com/the-curse-of-frankenstein-classic-film-review-458/
© Derek Winnert 2013 Classic Movie Review 31
Check out more reviews on http://derekwinnert.com/