Manchester by the Sea *** (2016, Casey Affleck, Michelle Williams, Kyle Chandler ) – Movie Review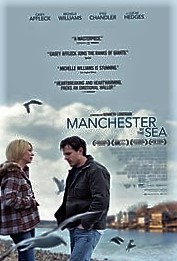 Casey Affleck is outstanding as Lee Chandler, a New England uncle who is legally supposed to take care of his 16-year-old nephew Patrick 'Patti'  (Lucas Hedges) when the boy's father (Kyle Chandler) dies suddenly.
Though he's entirely nice and likeable, nobody seems to want to look after the kid till he's old enough to inherit at 21. Affleck is reluctant, the mother (Gretchen Mol) is an ex-alcoholic Christian, now married to boring Rodney (Matthew Broderick), the other uncle (C.J. Wilson) is too busy.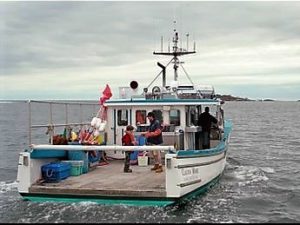 Affleck's ex-wife Randi (Michelle Williams) reappears to attend the funeral with her new hubby Josh (Liam McNeill). This is one heck of a dysfunctional extended family. Meanwhile, Patrick is in trouble with the hockey coach (Tate Donovan). And, with Affleck finally picking up the challenge of looking after Patrick, the kid won't relocate to Boston with him. That really isn't much of a plot is it? Of course it is reminiscent of one of those classic Russian plays – shall we relocate to Moscow? And their plots aren't much fun either.
Affleck, by the way, plays a janitor/ handyman, unblocking ungrateful or lustful women's blocked toilets. It's hard to accept Affleck as a janitor, or understand why his character who seems so bright, clever and perceptive, could possibly be stuck unclogging bogs for a pathetic living.
It's a tangled web of relationships, but still, there is no actual story. Premiered at the 2016 Sundance Film Festival and shown at the London Film Festival, it is very a festival film par excellence, a mood, atmosphere and character piece. Writer-director Kenneth Lonergan, who also wrote Analyze This and Gangs of New York, certainly writes interesting characters and good dialogue, but the film rambles over 135 minutes. It still entertains, though it would entertain a lot more half an hour shorter.
And it is memorable for that admirable actor Affleck. It's not the career defining performance of the publicity, but it is still a broodingly impressive one, very young Marlon Brando. His rapport with Hedges is the best thing in the film, and their relationship and dialogue is engrossing in a way that the rest of the film can't manage. The seaside picture postcard views are very attractive, and Lonergan gives us a vivid idea of the place, yet another character in a movie overladen with them. That means no proper roles for Broderick or Donovan, and that's a pity.
Manchester-by-the-sea, on the north shore of Massachusetts, was originally called plain old Manchester until 1989 when resident Edward Corley led a controversial campaign to change its name.
© Derek Winnert 2016 Movie Review
Check out more reviews on http://derekwinnert.com