Night of the Eagle [Burn, Witch, Burn!] *** (1962, Margaret Johnston, Janet Blair, Peter Wyngarde) – Classic Movie Review 5867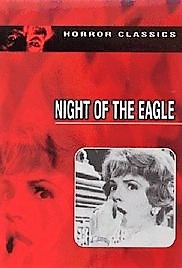 Director Sidney Hayers's scary 1962 British witchcraft suspense horror thriller stars Margaret Johnston as jealous Flora Carr (Johnston) using black magic on medical professor Norman Taylor (Peter Wyngarde) and his wife Tansy (Janet Blair).
The movie is boosted by a stylish production, telling performances (especially from Johnston) and a chilling yarn with a good finish.
The effective screenplay by Charles Beaumont, Richard Matheson and George Baxt is based on Fritz Leiber Jr's novel Conjure Wife, which was previously filmed in 1944 with Lon Chaney Jr as Weird Woman.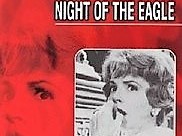 It also features Anthony Nicholls, Reginald Beckwith, Kathleen Byron, Colin Gordon, Jessica Dunning, Norman Bird, Judith Stott, Bill Mitchell, George Roubicek, Frank Sanguineau and Gary Woolf.
It is shot in black and white by Reginald H Wyer, produced by Leslie Parkyn, Julian Wintle, Samuel Z Arkoff and Albert Fennell, scored by William Alwyn and designed by Jack Shampan.
It was called Burn, Witch, Burn! in the US.
© Derek Winnert 2017 Classic Movie Review 5867
Check out more reviews on http://derekwinnert.com