Now You See Me 2 ** (2016, Jesse Eisenberg, Mark Ruffalo, Woody Harrelson, Dave Franco, Lizzy Caplan, Michael Caine, Morgan Freeman) – Movie Review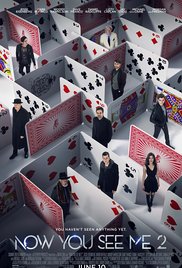 Director Jon M Chu's slick and handsomely produced 2016 caper thriller sequel offers similar tasty ingredients to the original 2103 Now You See Me: flashy sleight of hand, a first-rate cast and an ingenious if unsatisfying plot. The game plan this time is to go light on the magic thing and mix in Mission: Impossible and Ocean's Eleven, and this they do, with successful if less satisfying results than before.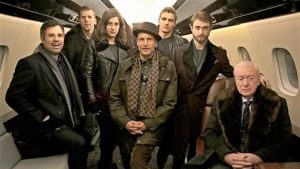 This time Jesse Eisenberg, Woody Harrelson, Dave Franco and Lizzy Caplan are the Four Horsemen team of illusionists who stage a comeback performance to expose the unethical practices of tech magnate Walter Mabry (Daniel Radcliffe), who threatens them into pulling off their most impossible heist.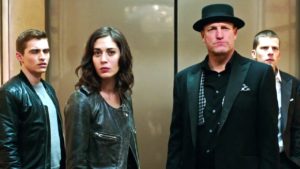 Mark Ruffalo returns as former FBI agent Dylan Rhodes, Michael Caine and Morgan Freeman also again star as Arthur Tressler and Thaddeus Bradley, David Warshofsky is back as Agent Cowan and Sanaa Lathan has the burden of playing the hapless representative of the forces of order, FBI Deputy Director Natalie Austin.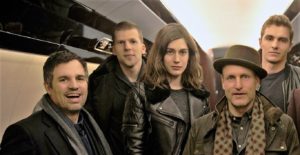 Where are original stars Isla Fisher and Mélanie Laurent, you ask? You wouldn't think that in such a large cast of luminaries they would be missed, would you, but they are. Caplan and Lathan can't fill the gaps. The original movie was an overlong 115 minutes, but, probably in an effort to give good value, this one extends to 130 minutes, roughly half an hour too much, with the end seeming in sight several times before it actually finishes. Brevity being the soul of wit, it's time to cut it short and shut up.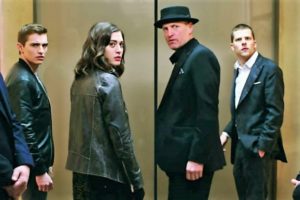 Still, this time, it is mostly good fun and amusing enough, and at least partly does the trick. The idea of Radcliffe as Caine's son is probably the funniest thing about the movie. Their double act is amusing, though, while Radcliffe's a very neat little actor these days, he's fighting odd casting as the villain. Of the cast, probably Harrelson, Franco and Freeman are the best value this time, catching the intended quirky and sly tone the caper needs just right. At any rate, everybody gives the idea that they're having fun and enjoy making it, and that's infectious.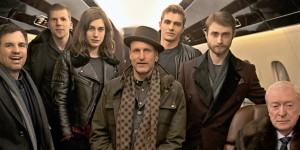 It cost $90 million and took $59 million in the US, which is fairly popular, but the first one was a surprise hit, costing $75 million and taking $117 million in the US. I guess the magic isn't there this time.
© Derek Winnert 2016 Movie Review.
Link to Derek Winnert's home page for more film reviews: http://derekwinnert.com/