Radio Flyer *** (1992, Lorraine Bracco, John Heard, Elijah Wood, Joseph Mazzello, Adam Baldwin, Ben Johnson) – Classic Movie Review 5766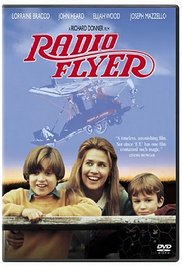 Director Richard Donner's tentative but often moving 1992 story stars Elijah Wood and Joseph Mazzello as two kid brothers retreating into a fantasy world in which they concoct a scheme for a flying machine after abuse by their brutal, drunken stepfather, The King (Adam Baldwin).
Lorraine Bracco stars as the busy mother the kids cannot afford to tell what is going on.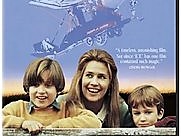 The performances by the boy actors Wood and Mazzello as Mike and Bobby are extremely touching and David Mickey Evans's screenplay is intelligent and thoughtful, if a trifle sentimental and unrealised. Writer Evans, who wrote the script in film school and got more than $1.25 million for it, was the original director till Donner took over, and the film was re-cast.
Tom Hanks appears Older Mike, and tells the tale of his childhood as a grown-up version of Wood's character Mike. Later re-shoots led to the film's modern-day prologue and epilogue.
Ben Johnson, Oscar winner for The Last Picture Show, also appears and plays Geronimo Bill. And Thomas Ian Nicholas, Kevin Myers in American Pie (1999), plays Ferdie.
It is nicely shot by Laszlo Kovaks and scored by Hans Zimmer, with a loving production by Lauren Shuler-Donner.
Thanks to the change of director and the later re-shoots after test screenings, it cost a very large $35,000,000 but was failure at the box-office and grossed only $4,650,000 in the US. Donner scrapped script fantasy sequences involving a worm man and zombies, and toned down elements of the child abuse to try to market it as a family film.
© Derek Winnert 2017 Classic Movie Review 5766
Check out more reviews on http://derekwinnert.com