Terminator 2: Judgment Day ***** (1991, Arnold Schwarzenegger, Linda Hamilton, Edward Furlong) – Classic Movie Review 106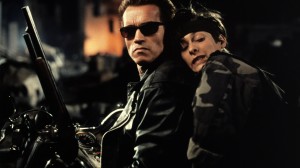 In 1984 Arnie promised to be back, and so he was in 1991. It's now a decade since the original The Terminator tried to kill Sarah Connor in the first film. And, in an extraordinary, mind-bending turn of events, Arnold Schwarzenegger turns good guy to play The Terminator T-800.
His mission this time is to protect the future world saviour, mother Sarah Connor (Linda Hamilton)'s teenage son John (Edward Furlong), from a new improved, malevolent, even more lethal cyborg, The Terminator T-1000 (Robert Patrick), sent back from the future.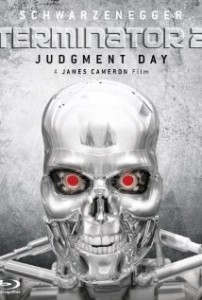 The first film is a great movie, tighter, faster and shorter. But, arguably, this incredibly costly 1991 sequel is even better. Everything else is an improvement, the story, the dialogue,  the action, acting (especially Arnie's, if only because he has much more to do), the direction, the stunts, the visual effects, and the characters. All were great in the original but now they are finessed out of sight.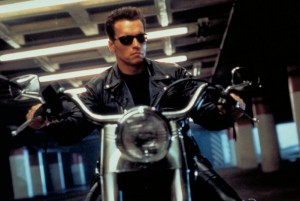 Co-writing again with William Wisher Jr, director James Cameron provides way over two hours of storming, non-stop action, packed with some of the most thrilling stunts and awe-inspiring visual effects the cinema had ever seen at the time. And, you know what, they are still amazing. It cost nearly $100million, but that cost is all up there on screen. And the big gamble paid off, it took twice its cost back at the US cinema box office alone.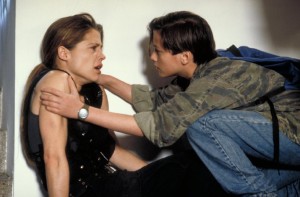 Arnie is charismatic battling the new cyborg to save the boy's life, Patrick is a great relentless villain as T-1000 as unstoppable as Arnie in the first film, while Hamilton and Furlong are ideal, providing the human dimension.
Reflecting the technical triumph and achievement here, the film was the rightful winner of four technical Oscars for those brilliant visual effects (Fantasy II Film Effects, Industrial Light and Magic), the sound, sound effects editing and makeup.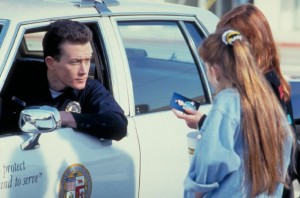 There's a high violence and strong language count, though it was trimmed for British cinemas and further for video. The original release runs at 137 minutes. The British TV version cuts some of the violence but includes over 15 minutes of additional scenes from the Director's Cut version not released in the UK. The gleaming, complete 1993 special edition runs 154 minutes.
Terminator 3: Rise of the Machines followed in 2003. Terminator Salvation followed in 2009. And on July 1 2015, Arnie will be back in Terminator: Genisys.
http://derekwinnert.com/the-terminator-classic-film-review-105/
http://derekwinnert.com/terminator-salvation-film-review/
© Derek Winnert 2014 Classic Movie Review 1o6
Check out more reviews on http://derekwinnert.com/