The Astounding She-Monster * (1958, Robert Clarke, Kenne Duncan, Marilyn Harvey, Jeanne Tatum, Shirley Kilpatrick) – Classic Movie Review 5012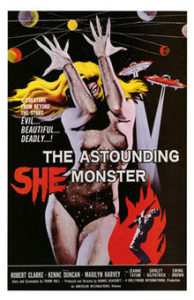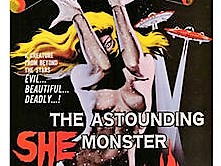 'A creature from beyond the stars. EVIL… BEAUTIFUL… DEADLY…!' Producer- director Ronald [Ronnie] V Ashcroft's incredibly cheap-looking 1958 sci-fi chiller is foolishly acted and totally trashy. No wonder it is cheap-looking, it cost only $18,000.
You can sneer, but it made a profit and star Robert Clarke, who was paid a $500 salary plus 4 per cent of the producer's profits, ended up making $2000.
Frank Hall's story and screenplay is about a geologist (Robert Clarke) crooks (Kenne Duncan, Jeanne Tatum) and a kidnapped heiress (Marilyn Harvey) battling a sexy spacewoman known as The She-Monster (Shirley Kilpatrick) who crash-lands near the scientist's remote forest house.
It runs a mercifully short 62 minutes, is produced by Hollywood International, is released by American International Pictures, is shot in black and white by William C Thompson and is scored by Günther Kauer.
Also in the cast are Ewing Miles Brown, Al Avalon and Scott Douglas as the narrator.
It is also known as Mysterious Invader. It was picked up for distribution and released in 1957 by American International Pictures as a double feature with Viking Women and the Sea Serpent (aka The Saga of the Viking Women and Their Voyage to the Waters of the Great Sea Serpent).
Supposedly, the world's worst film-maker Edward D Wood Jr worked as an unofficial consultant on the film.
© Derek Winnert 2017 Classic Movie Review 5012
Check out more reviews on http://derekwinnert.com