The St Valentine's Day Massacre **** (1967, Jason Robards, George Segal, Ralph Meeker) – Classic Movie Review 3896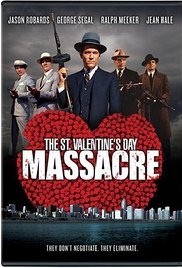 Producer-director Roger Corman's modish 1967 cult gangster movie version of the 14 February 1929 Chicago gang killings stars Jason Robards as the notorious Al Capone, leader of the Southside Mob, and Ralph Meeker as his deadly rival George 'Bugs' Moran. George Segal and David Canary play his lieutenants Peter and Frank Gusenberg.
Howard Browne's knowledgeable screenplay conveys plenty of information, history and period detail, while the director and the cast add the passion and action thrills.
The 1929 public of the day had turned a blind eye to the mobs' murderous activities until the Capone mob's garage killing of seven of Moran's boys.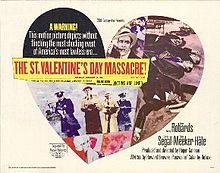 After years of making poverty row independent movies, Corman evidently rejoices in the luxury of his costly film thanks to a big budget from a major studio (20th Century Fox) in a painstaking film where the money is up there on screen.
Also in the cast are Jean Hale, Clint Ritchie, Frank Silvera, Joseph Campanella, Richard Bakalyan, Bruce Dern, John Agar, Alex D'Arcy, Kurt Kreuger, Harold J Stone and Paul Richards. Jack Nicholson has an uncredited walk-on as hitman Gino.
© Derek Winnert 2016 Classic Movie Review 3896
Check out more reviews on: derekwinnert.com