Titanic **** (1997, Leonardo DiCaprio, Kate Winslet, Gloria Stuart, Bill Paxton, Billy Zane, Kathy Bates) – Classic Movie Review 77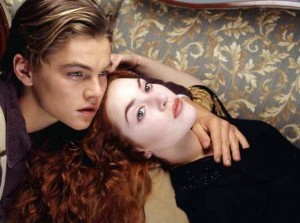 'I'm the king of the world.'
Leonardo DiCaprio gets that sinking feeling as his shipboard love for Kate Winslet hits the rocks in this mesmerising blockbuster. James Cameron's romantic disaster movie reputedly cost a scary $250 million back in 1997 and nearly sank the studios involved (Fox and Paramount). But it went on to box office triumph as the first film to take $1,000 million. Then it triumphed again at the Oscars where its 11 wins equals Ben-Hur's and The Return of the King's record and its 14 nominations equalled All About Eve's.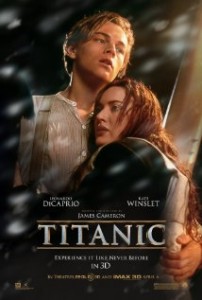 Actually it's three stories, and with a running time of 194 minutes there's plenty of time for all of them. It's nothing if not good value.
(1.) In the present, a 101-year-old lady (Gloria Stuart, actually only 86) recalls to a salvage expert (Bill Paxton) her memories of her ill-fated journey on the RMS Titanic's maiden voyage in 1912, star-crossed love affair and disaster.
(2.) In the past there's that star-crossed shipboard romance between a poor boy, DiCaprio's handsome, kind, foreign painter Jack Dawson, and Winslet's rich, posh girl Rose DeWitt Bukater. At 17, Rose is expecting to be married off to a rich guy, Cal Hockley (Billy Zane), a fiancé chosen by her mother Ruth (Frances Fisher), till third-class passenger Jack sneaks into first class and sails into view. Passionate nude love-making follows.
(3.) Then there's the historical disaster movie, with Captain Edward James Smith (Bernard Hill) eventually going down with his ship on that fateful morning of April 15 1912.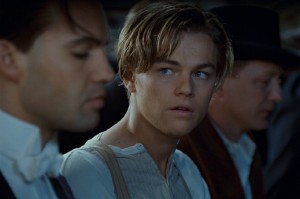 It's certainly thrilling as Cameron goes to extraordinary lengths – not to mention that incredible expense – to get it all looking right. The romantic fiction goes well too, thanks to the exuberance and appeal of the very attractive and pretty leading couple, sharing good screen chemistry.
The potentially sticky modern section goes even better thanks to the conviction Stuart (she's Old Rose, of course) and Paxton are able to bring. After a long wait of an hour and a half, the disaster stuff when it finally comes is extremely convincingly done thanks to the late-90s modern technology and money. Kathy Bates makes a strong impression as real-life Molly Brown.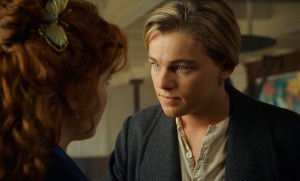 The movie is all incredibly enjoyable in its escapist way, though why tell a fake story when you're so wanting to tell the 'real' story the Titanic? Eerily, and tantalisingly, the film does include Cameron's 1995 deep-sea footage of the Titanic's remains on the seabed.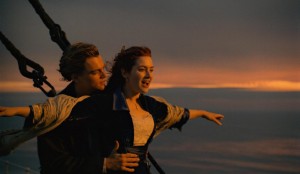 Its re-release in 3D in 2012 took another $60million in the US alone. And it's probably earned $2,000 million worldwide by now. Nearly 130million Americans paid to see it in cinemas and over 17million Britons did. Wow!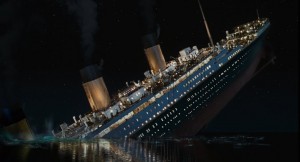 Shamefully there was no Oscar nomination for the screenplay or DiCaprio (leading him not to attend the Academy Awards) and no win for oldest ever nominee Stuart. She lived to celebrate her 100th birthday in 2010. The Best Song Oscar went to 'My Heart Will Go On', sung by Celine Dion, not a favourite of Winslet's apparently. It was also nominated for ten BAFTA awards, including Best Film and Best Director, and failed to win any.
Cameron's script bears some similarities to the British take on the disaster, A Night to Remember (1958), written by Eric Ambler, which inspired Cameron to make it.
The film's 11 Oscars are for: Best Picture (the second film about the Titanic to win that award, after 1933's Cavalcade), Best Director, Best Art Direction, Best Cinematography, Best Visual Effects, Best Film Editing, Best Costume Design, Best Sound (Gary Rydstrom, Tom Johnson, Gary Summers, Mark Ulano), Best Sound Effects Editing, Best Original Dramatic Score, Best Original Song.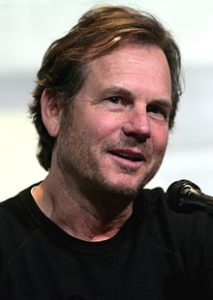 Bill Paxton died of complications after heart surgery on 25 aged 61. He was closely associated with James Cameron, also playing a punk leader in The Terminator, a venal car dealer in True Lies and an ill-fated technician in Aliens. He also appeared in Weird Science (1985), Predator 2 (1990), Apollo 13 (1995) and Twister (1996).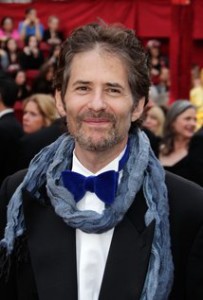 James Horner won two Oscars for Titanic's original score and song, and died tragically in a plane crash on 22 June 2015, aged 61.
(C) Derek Winnert 2013 Classic Movie Review 77
Link to Derek Winnert's home page for more film reviews: http://derekwinnert.com/