Toni Erdmann **** (2016, Peter Simonischek, Sandra Hüller, Michael Wittenborn) – Movie Review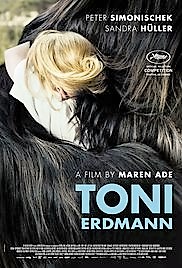 Peter Simonischek and Sandra Hüller are brilliantly funny in writer-director Maren Ade's endlessly hilarious epic comedy about an embarrassing dad trying to reconnect with his workaholic businesswoman daughter.
The retired German dad, Winfried Conradi, is a constant joker who eventually pretends to be Toni Erdmann and the German ambassador in order to provoke, wake up or just lighten up ultra serious offspring, whom he visits without warning in Bucharest, Romania, thus conning and kidding all the uptight colleagues round her. Just when she gets busiest with her work, up pops dad, a great not-so-cuddly bear of a man, in the most peculiar, unexpected circumstances, not to mention awful black wig.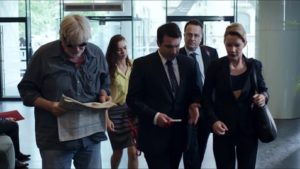 It says everything that the comic invention rarely flags in all the movie's 162 minutes. On inspired form, Simonischek and Hüller are a great comedy team, the German Hardy and Laurel, or Walter Matthau and Jack Lemmon.
© Derek Winnert 2016 Movie Review
Check out more reviews on http://derekwinnert.com