Untamed *** (1929, Joan Crawford, Robert Montgomery, Ernest Torrence, Holmes Herbert, Gwen Lee, Lloyd Ingraham) – Classic Movie Review 5954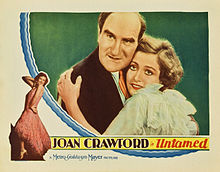 Following her star-making role of Diana Medford in the hit silent Our Dancing Daughters (1928), Joan Crawford's first talkie, Untamed (1929), was made during the difficult period of MGM's transition from silent to sound movies. But it was another success for Crawford, propelling her to become one of the biggest stars at MGM.
Director Jack Conway's melodramatic romantic comedy drama provides the first leading man role for Robert Montgomery, who had previously made several silents. It also stars Ernest Torrence, Holmes Herbert, Gwen Lee, and Lloyd Ingraham.
Crawford stars as Alice 'Bingo' Dowling, the wild and willful free-spirited daughter of oil prospector Henry 'Hank' Dowling (Ingraham) in the jungles of South America. She is sent by her 'uncles' Ben Murchison (Torrence) and Howard Presley (Herbert) for civilising in New York City.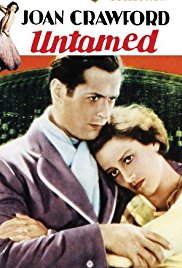 On an ocean liner to New York, she meets and falls for the young, handsome, educated charmer Andy McAllister (Montgomery). So Andy comes in handy, but he decides that he cannot live off her money and turns to Marjory (Gwen Lee) instead, infuriating Bingo big time.
The script is adapted by Sylvia Thalberg and Frank Butler from a story by Charles E Scoggins, with dialogue by Willard Mack.
Crawford dances and sings the theme song Chant of the Jungle in the opening scene. Written by Nacio Herb Brown and Arthur Freed, it was a hit in 1929. Later Crawford and Montgomery sing the Louis Alter and Arthur Freed song That Wonderful Something Is Love.
The original music is composed by Louis Alter, Nacio Herb Brown and William Axt, with lyrics by Arthur Freed and Joe Goodwin.
On a budget of $229,000, it earned $974,000.
The stars worked together again in Our Blushing Brides (1930), Letty Lynton (1932), No More Ladies (1933), Forsaking All Others (1934) and The Last of Mrs Cheyney (1937).
 © Derek Winnert 2017 Classic Movie Review 5954
Check out more reviews on http://derekwinnert.com